.....so little time to say it.
My friends, I have had A LOT going on.
I truly wish I had the time to be able to share it all with you.
Good, bad, and ugly.
But I guess they don't call this the busiest time of year for nothing!
Not only are Christmas preparations in full swing but its the craziest time of year for my job too so I have been racking up the overtime...not fun.....the extra money will be a plus though.
I keep dreaming of all the crafting and jewelry designing that I would rather
be doing but alas, it will have to wait (sigh).
At least its looking like Christmas in my house.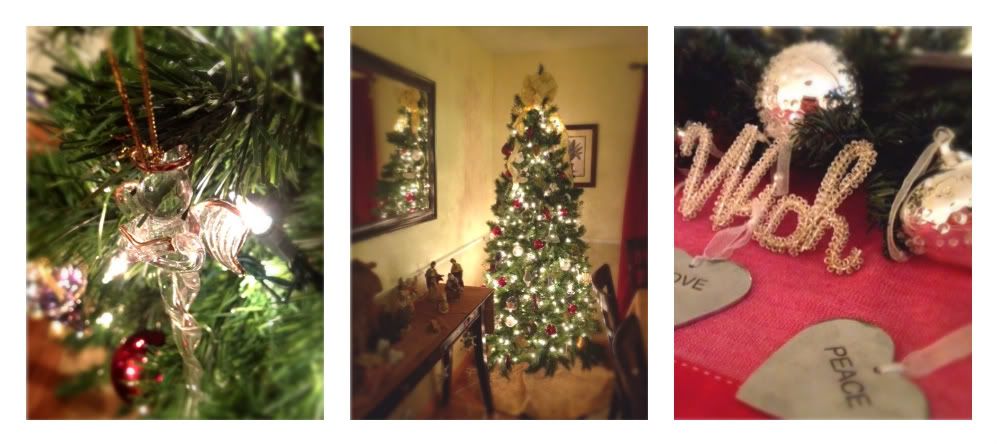 Actually it was even before Thanksgiving but I'm still enjoying the lights and all the Christmas music we've been listening to. We drive around and look at the Christmas lights in the neighborhood at least a night or two a week. There is also a HUGE light display at a nearby park so we'll be sure to hit that up in the next few weeks too.
Watching my boys in awe of the season is just awesome!
The way they love to shout out when they see a house all lit up, or are mesmerized at the Christmas specials on TV, or sing Christmas carols in their sweet little kid voices...it's truly priceless.
Even me Hubsy gets a little emotional about it :)
So anyway, I probably won't have much time for blogging until the New Year but I will try to keep up on some of my reading. I truly hope you all have a wonderful holiday filled with the love and peace of Jesus!