This well know phrase can be applied to so many areas of life.
And it's no exception when it comes to your jewelry either.
You can find all sorts of adorable jewelry storage ideas on Pinterest.
But these should really be kept for your costume jewelry and not your fine pieces.
One of the simplest ways to store your jewelry and keep those gorgeous metals from tarnishing is to keep them in a small resealable plastic bag. This will help to hinder the oxidation process on the surface of sterling silver and keep your jewelry looking shiny and new.
Sterling Silver reacts with the moisture in the air which produces a layer of tarnish on the surface. If you do have some pieces that have gotten tarnished, there is a cool chemistry trick can help you
transfer the tarnish from your jewelry onto aluminum.
No lab coat or goggles required :)
All you need is baking soda, boiling water, and aluminum foil. Easy right?
It's the simple and organic way to polish your sterling silver.
It doesn't have to be a lot, just enough to submerge the jewelry.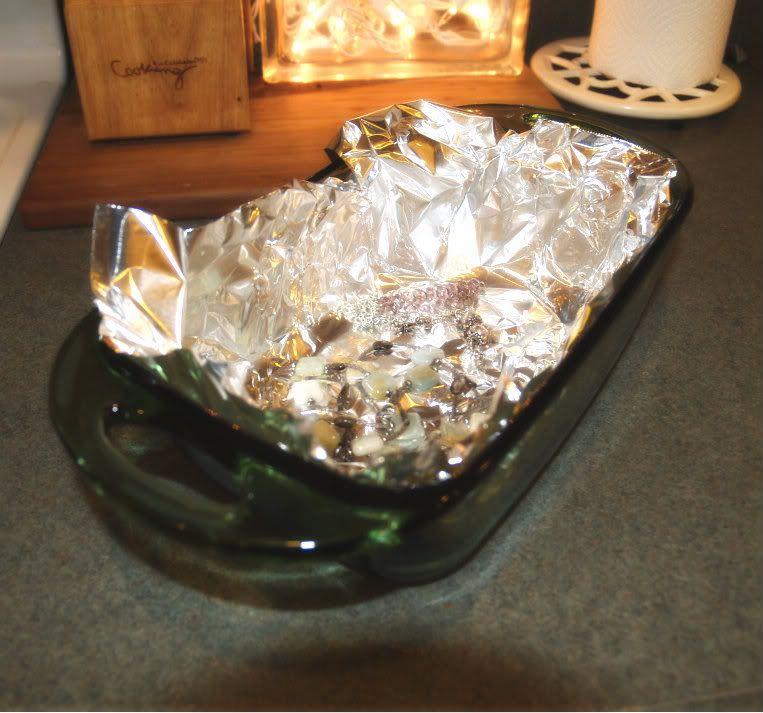 I have several pieces in this batch
3. Line the glass or plastic backing dish with slightly crumpled aluminum foil.
4. Lay your jewelry on top of the foil so that the silver parts are touching the foil.
5. Lightly sprinkle baking soda on top of the jewelry.
6. Pour the boiling water over the jewelry until it is submerged. Let sit for a minute or two.
7. Take the item(s) out and rinse with tap water. Then buff with a clean soft cloth.