Ok. It's no secret that I am not a whiz in the kitchen. I'm not terrible, just...inexperienced let's say. So when I come across something that makes me look like I know what the heck I'm doing, I feel it my duty to pass it along for any other poor souls out there. You're welcome.
I was gifted with The Dinner Doctor cookbook several years ago and as usual I marked several of the recipes but only ended up making one. The galette. It was a hit with me Hubsy so we added it to our repertoire. Unfortunately the boys turn their collective nose up at anything mushroom so it became somewhat impractical to make if me and Hubsy were the only ones that were going to actually partake of it.
It became an out of sight out of mind kinda thing. Until recently when I was revisiting some recipes I hadn't made in a while. I think this one turned out the best yet.
Aromatic Mushroom Galette
1package (8 ounces) refrigerated crescent rolls
2 cups (8 ounces) pre-sliced mushrooms (I used baby portabellas)
3 cloves garlic, crushed in a garlic press (I used pre-minced garlic)
2 tablespoons olive oil, or butter, melted
1/2 cup pre-grated Parmesan cheese
1/4 cup chopped fresh flat-leaf parsley
1 teaspoon dried oregano
salt


1. Preheat oven to 375 degrees F.
2. Unwrap the crescent rolls; you will have 8 triangles. Arrange the triangles of dough on an ungreased baking sheet or pizza stone so that they form an 8-pointed star. Start by placing one triangle in the 12 o'clock position, one at 6 o'clock, one at 3 o'clock, and one at 9 o'clock.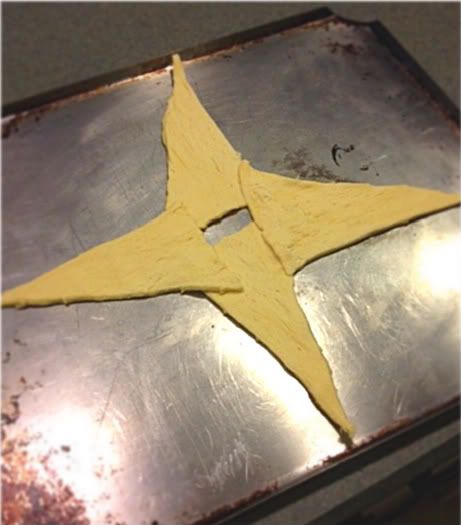 Place the remaining dough in the empty spaces.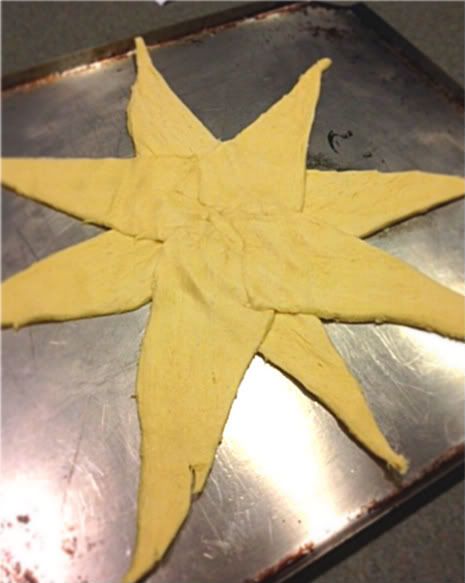 The edges should overlap slightly. Work dough together with your fingers to seal the whole created in the center.
3. Place the mushrooms, garlic, olive oil, 1/4 cup of the parmesan cheese, and the parsley and oregano in a mixing bowl, and stir to combine. Season with salt to taste. Spoon the mushroom filling into the center of the star, then pull the tips of the dough up , and fold them over the filling to create a bundle. (The recipe does not call for it, but I added an egg wash here). Sprinkle the remaining parmesan cheese over the top of the galette.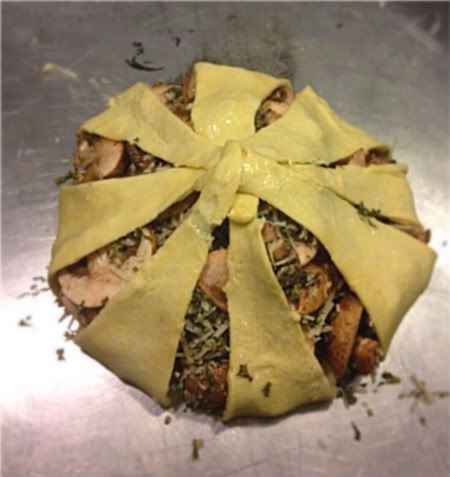 4. Bake the galette until the crust is deeply browned and the mushroom filling bubbles, 22 to 25 minutes. Remove the galette from the oven, run a metal spatula underneath to loosen it, then slice and serve warm. Serves 6-8.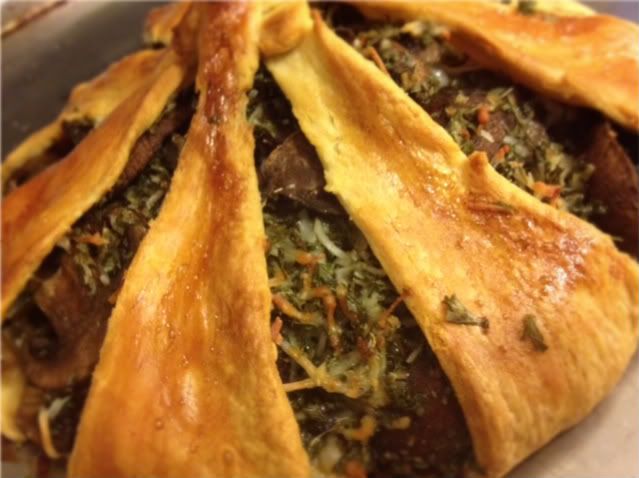 Use this as a sophisticated appetizer at your next gathering or pair it with a nice green salad and glass of white wine for an elegant and light dinner.
I think it's high time I revisit some of the other recipes I marked in this book. What I love about it is that she gathers several recipes to use with one particular ingredient that you may have already in your pantry. Check these out...yum!