Ya know, Pittsburgh really is a cool place to live.
You may think of steel mills and smog when hearing about Pittsburgh but it's far from that outdated misconception. I won't lie, it is cloudy here most of the year but what makes Pittsburgh special is the diversity. It really is a city founded on a bunch of different little ethnic neighborhoods.
Even though I've lived here for 22 years, we've only recently really begun to take advantage of some things our city has to offer. We got year long passes to the Children's Museum, Aviary, Science Center, and Carnegie Museum. I think we've been "downtown" more in the past 6 months more than we've been in the past 6 years. And we've really been enjoying it!
We recently got to attend a Pirates baseball game at PNC Park. We took the boys to their first baseball game and believe me, they were excited. I did have to make sure E understood that we were going to see baseball players and not actual Pirates ;)
They went completely prepared to catch a fly ball. Even though that didn't happen , they still had a blast. L was actually in to the game but E more so enjoyed the social side of it. Chanting "let's go Bucs" and dancing around to the music played between the action.
It was fun to see them get all excited at the mascot shooting T-shirts into the crowd, the aisle vendors yelling "cotton candy here", and watching the traditional "pierogi race".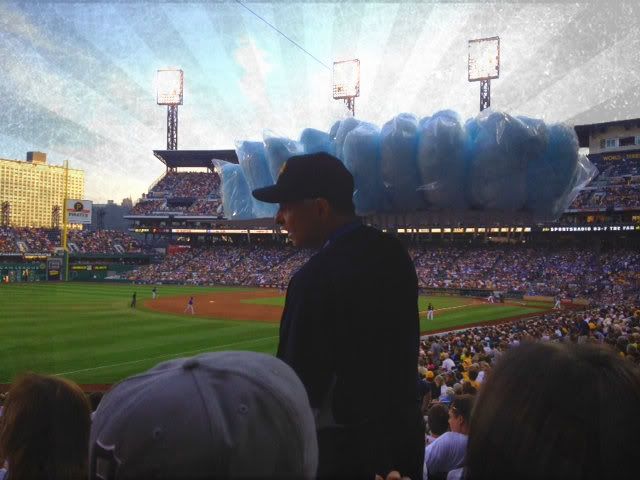 The pierogi race around the bases
All the while having a stunning view of downtown (there is a river between them, you just can't see it).
Travel and Leisure magazine recently named Pittsburgh's PNC Park the best baseball stadium in America.
The magazine said PNC Park took the top spot because all of the seats have terrific views of the baseball games and the Pittsburgh skyline.
It really is awesome.
Here are some of my favorite things about the city I call home.
*It has it's own language...Pittsburghese....
check it out here
...it's hilarious an 'at!
* We eat chipped chopped ham.
(eat it in a ham BBQ "Sammitch" - there's that Pittsburghese for you)
*Primanti's sandwiches...it comes comes with fries and slaw.
What makes it special? The fries and slaw come in the sandwich, not just with it.
*
Pittsburgh Penguins
have won three Stanley Cups.
*The bridges. We have more than
1,700 bridges
.
See the rowing team at the bottom? I used to be on the rowing team in highschool. You didn't want to mess with me, had muscles like a brick house. What happened to them? It's a mystery.
Some other fun facts about the 'burgh
* The fountain at
Point State Park
, right at the tip of the golden triangle (downtown Pittsburgh) is fed by a glacial formation and sprays 6,000 gallons per minute.
* The Dark Knight Rises was filmed in Pittsburgh among other locales.
* The D. L. Clark Company was born in two back rooms of a house in what is now Pittsburgh's North Side in 1886. The famous Clark candy bar is now an American tradition.
* Heinz products are another proud Pittsburgh tradition. Heinz founder, Henry Heinz, literally sank his competition in the 1880's when he bought the products and equipment of a competing company and sank them in the Allegheny River!
* Brewed fresh daily at the Pittsburgh Brewery in Lawrenceville, Pennsylvania, Iron City beer is definitely a Pittsburgh tradition. One of the first true lager beers brewed in the United States.
* Can you come up with the only country club to have hosted seven U.S. Opens? It's
Oakmont Country Club
. Oakmont has beaten golf's best, and is the only course named a national historic landmark. Oakmont's legendary lightning-fast greens, thick rough and plentiful bunkers have played host to a record 18 major golf championships, including seven U.S. Opens. Golf Digest ranks Oakmont #4 in its most recent version of
America's Top 100 courses
.
So there you have it.
Some favorites from my Pittsburgh home.
What's unique about your hometown?
Linking up with Rachel :)