We just had 3 days of much needed goodness....especially after my
last post
(thanks again for all your supportive comments). And I'm feeling a bit more like my positive and upbeat self. Being over my illnesses may have something to do with it. I was essentially sick with various things for almost all of October...yuck.
It started Saturday morning when we woke up to snow. And while I would normally think it's too early, it was just the thing for a comfy day at home. I woke up to the sight of my boys' heads bobbing in the window trying to get a look at the snow. They kept at it all day.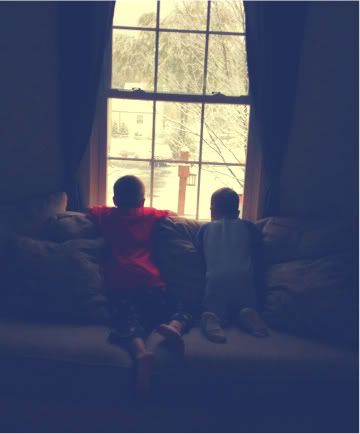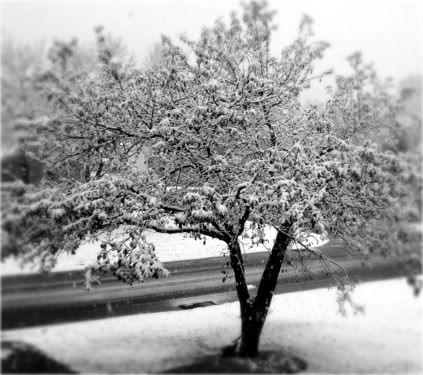 Me Hubsy was happy not to feel guilty about all the yardwork he wasn't getting done. I cleaned, did TONS of laundry, listened to music, made sure L got his homework done, and baked. I felt like Martha Stewart y'all.
Or some less stuffy domestic diva at least.
Nothing like a sense of accomplishment.
I should have taken pictures of my clean house cause it only lasted for about 45 minutes. We baked sugar cookie cutouts for Halloween, too bad the icing looked more peach than orange after we colored it...
L said it looked like skin
...next time I'll just buy the darn can of bright orange icing at the store. The poor pumpkins looked anemic!...I'm sparing you the pics :) But they had candy corn eyes and were absolutely delish!
Needless to say they did not survive long in our house of sweet eaters.
Me Hubsy also came home from Lowes with this awesome canning kit - that he got on clearance of course.
I've always said he should be a professional shopper. If there is a deal out there, he's gonna find it. Anyway we ended up tossing a lot of the produce from our garden this year because we just couldn't eat it fast enough. We intend to expand out garden a bit next year so we're really excited at the prospect of canning some of it. Hopefully it won't be too difficult. Have you ever canned before?
Sunday my sweet Mother-in-law took us out to breakfast. Such a treat. Then we went to visit some friends while Me Hubsy helped put heaters on their roof. The kids had a ball playing together. Later L said he was going to marry Baby Lila....they do indeed each have a thing for these two girls....time will tell ;) Once we got home it was time for naps and I was going to begin my Herb and Butter Turkey breast with mashed potatoes.
This was going to be the crown jewel of my domestic weekend.

I have NEVER cooked a turkey before.
It all started out exactly as planned. I set the timer and basted that baby every 20 minutes. It was smelling seriously heavenly in my house. I had visions of actually serving the food on platters and such instead of just serving from the stove like I normally do. I think I may have even had on an apron in my little fantasy :) And of course I dreamed of the whole family loving every delicious bite. But instead we ended up having just mashed potatoes and sans gravy to boot (don't worry I did make the kids a hot dog too), and
nobody was dishing out compliments to the chef.
I bought my turkey breast from Aldi's and there was "something" on the outside of it that was curling down into creases and looked like it was raw inside when it wasn't. Of course I didn't realize this at first and ended up cooking it an extra 30 mins before I realized. By then we were not in the mood to eat it. I did pour the butter herb juices over it and had one bite to make sure it was as good as I expected. All the flavor was there thankfully....next time I will purchase a higher quality turkey breast without any mysterious "stuff" on it. And I will take pics and post the recipe because....the flavor is indeed worth it!
It was time to fit in the pumpkin carving before bed. Me Hubsy loves to do fancy faces. They turned out pretty good I think.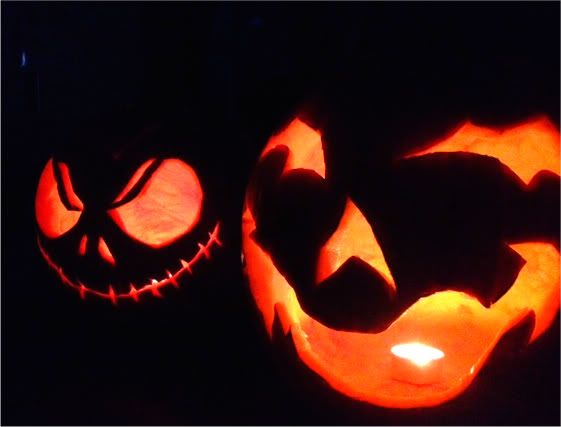 Halloween night was great...all except for the rain. My two little spooky ghosts had such a good time. I thought for sure E would not keep his costume on long but he wore is the whole time. I really lucked out that they wanted such easy costumes. I like to consider them "throwback"....hehehe. They actually got a ton of compliments. There's just not too many ghosts these days.
I love that the boys love handing out candy to all of our "customers" just as much as getting it. It was a great night watching my little spooks enjoy themselves so much.
That is the best part of parenthood I think.
Hope you had a Happy Halloween too!