I've finally been able to begin listing some of my new designs on my Etsy shop now that my home showing is over.
This week I've added my Snowlfake Obsidian and Onyx Bangle and Drops to the shop.
Spring is here and that means shorter sleeves, perfect for showcasing a great bracelet and this swinging bangle will not disappoint! I love the movement this bangle has!
I was immediately drawn to the sterling silver vase beads used in these drops. Such an unexpected shape!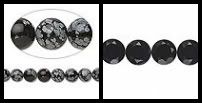 Snowflake Obsidian is one of my favorite gemstones. I really love the dalmation semblance it has. Perfect for so many pieces in my wardrobe.
And the simple beauty of black onyx cannot be denied!