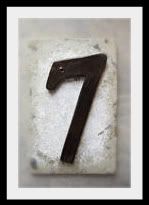 My husband and I just had our 7 year anniversary.
This year it pretty much went unmarked except for some exchanged I love you's and Happy Anniversary's. Not that we wanted it that way, there have just been so many other time consuming things going on. And since he's always telling me his goal is to make one of my "Friday Favorites" lists, I decided to make this one all about him : )
In honor of our 7th year of marriage, these are seven things I love about my husband.

#1 He never holds a grudge
We can have a heated argument and he has totally moved on in a few minutes.
He is much quicker to let go of anger than me.
#2 His Eyes
He has the most wonderful hazel eyes lined by long, dark, thick eyelashes that any woman would kill for. And he has been so kind as to pass this fabulous trait on to my two little boys, they're gonna be lady killers ;)

#3 He is not a procrastinator.
In fact he often pushes me to get off my butt and do something about it! Whatever "IT" might be.


#4 He's handy
I've mentioned that before right? He's remodeled rooms, built a roof over our deck, built furniture, transformed our landscaping, and so much more! My house is warm and welcoming and beautiful because of him. He has made our nest absolutely perfect for our family.

#5 He takes care of all bugs that may get in my our way.

#6 He wants us to spend as much time together as a family as possible.

#7 He says I love you everyday
This one says it all, who doesn't want to hear this everyday?
#8 He lets me buy anything I want.
Lucky for our pocketbook I am excellent at restraining myself but its the fact that he
would
let me if I wanted to.
#9 He reads my blog.
#10 I never have to pump my gas.
He fills up my car every time.
#11 His shoulders
He has big football player shoulders and I adore them.
#12 He wants our kids to be happy.
He's always thinking of fun things we could do for them.
#13 He is funny.
Especially when he sings Christmas carols when he has a stuffy nose.
#14 He takes care of all car problems.
Thank goodness!
#15 He is a good cook.
My favorites are his pizza, lasagna, meatloaf, and mac n' cheese.
Of course most of his recipes come from his mom : )
#16 He wants things done the right way.
No half-hearted attempts from this man!
#17 He never leaves the toilet seat up.
Can I get an AMEN!
#18 He wants Behind the Moon Beadworks to be successful (i.e. he wants my dreams to come true)
#19 He looks great in jeans and a wife-beater tank top.
All bald and tatooed, yes ma'am!
#20 He pre-warms my side of the bed when its cold.
#21 He stayed with me during my "I just wanna be friends, no wait more than friends, no just friends" phase at the beginning of our relationship. No guy should have to suffer that. I honestly wasn't trying to be mean in any way (blame it on a previously broken heart and fickle teenage behavior) but I thank the Lord everyday for his persistence!
#22 He calls his mom daily.
And he's more than willing to help her with ANYTHING she needs.
#23 He
WANTS
me to tell him what I think and give my opinion....on everything.
#24 He spends individual time with each of our boys before they go to bed.
#25 He braves the Black Friday lines and crowds every year to make sure our kids have an awesome Christmas while keeping it affordable for us. He gets up at 3am people! All while I snooze....
#26 He fights for me and the kids anytime an "injustice" befalls us.
#27 He plays Mr. Mom in the summer....and does an awesome job of it.
Oh wait I was supposed to stop at 7 huh?
I could go on but I will spare you. Well, I really should add 1 more....it's a biggie.
#28 I never get down right scared of anything.
To me, my husband = safety
He shows me everyday how committed he is to our family and I know no matter what life throws our way, I can handle it as long as he is with me.
Happy Anniversary to my forever love!