It's been a strange week.
Peace and beauty mixed in with frustration and sadness.
But that's life I guess.
Here's what I found immense joy in.
A simple family walk in the woods
You can see my boys aren't really meanderers but it was still peaceful being in the quiet of the woods and smelling all the wonderful fall smells in the air. This is one of our favorite things to do as a family.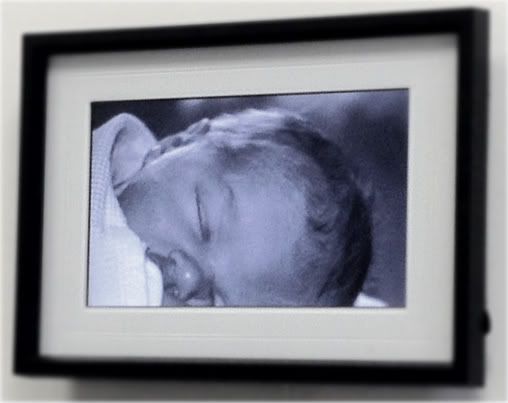 I adore my digital picture frame. My hubs got it for me a few Christmases ago and it hangs on my office wall. A perfect daily reminder of what I love in this life and reminder of the best moments I've had. Aside from my kids and wedding ring, this is THE BEST gift he has ever given me. LOVE IT!
My iPhone
I know, I know.
You're porbbaly all sick of me rambling on about how much I love my phone.
But God has really been using it to help me out this week.
That's right people, GOD will use an iPhone if need be!
I had a bad day at work one day and it was getting to me. The next day started out to be pretty much the same so I turned my Pandora channel to some Christian music (the fact that I can listen to this at work is a blessing in itself!) and it totally kept me centered on what is truly important and helped me maintain a Christian attitude toward all the people I dealt with.
You can see my hubby is a man of few words :)
Not to mention with the new phones my hubby and I can message each other for free. Lo' and behold we've been using it several times to drop little lovey reminders to each other throughout the week.
Who doesn't love that?!
My potty-training 2-1/2 year old
My sweet E has been keeping his diaper/underwear dry!
That is SOOO worth celebrating! He loves the M&M's we give him when he is successful. He will remind me to get them before we're even finished in the bathroom.
Diaper days, I am about to kiss you bye bye :)
What's been bringing you joy?
Go link up with Rachel and tell us about it!