We all know that as moms that we spend so much time being there for our husbands and children but that we really need to spend a little of that TLC on ourselves too.
This is so much easier said than done. So many of us still let ourselves fall by the wayside.
But I'm slowly finding a way to pamper me a bit too.

I haven't spent much money or time on beauty for the majority of my life but in the past year I've become much more aware of putting a little effort into it. To me when I feel pretty, it overflows into other areas of my life and my entire mood is just a bit more pleasant. I find it easier to put on that smile and take the world head-on with a positive attitude.
And who couldn't use a little bit more of that huh?
So on my quest to actually put a little effort into myself,
I have found several blog resources that are extremely helpful.
Unfortunately even with all this new found knowledge and inspiration, I still don't have much moolah
to devote to the cause. But I'll take it one baby step at a time.
A new shirt here, a new hair tool there....
And now I finally have somewhere
to go for some make-up help.
About a month ago I attended my first organized "vendor sale"
and during that evening I had the pleasure to meet Melissa....a mother and entrepreneur,
a girl after my own heart if you will. Well a few days later I received an email from her that I had won her giveaway that I entered. I was thinking it may be a bottle of lotion or something when lo' and behold I won a hand treatment, spring makeover, and a $20 gift certificate!
I was completely floored!
I needed a little pampering....like BAD.
So Hubsy offered to occupy the boys so I could get my "girl" on.
I was afraid Melissa might be a little turned off because I wanted to
post about the makeover but she was totally cool about letting me take a few pictures,
even if I was struggling with the self timer ;)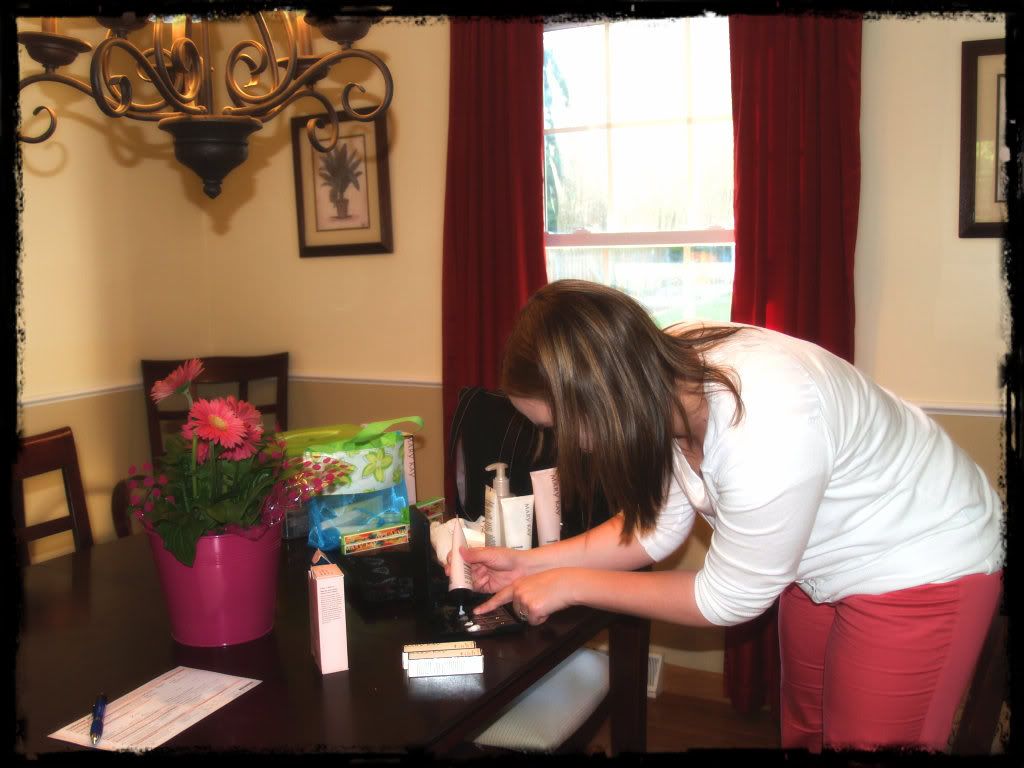 Setting up
I got a fantastic hand treatment that left my hands feeling so smooth but not greasy at all.
I got to try the entire Mary Kay TimeWise skin care system. It's time to face it girls, I'm at "THAT" age where I really need to be taking care of my skin. And can I just say my face felt FAB-U-LOUS! What a difference it made, I can only imagine what it will feel like after weeks of using it.
My beauty routine is so basic it's almost comical. Not that this system is complicated in any way,
the coolest part is that each step is made to build upon the others.
No washing in between. Talk about quick!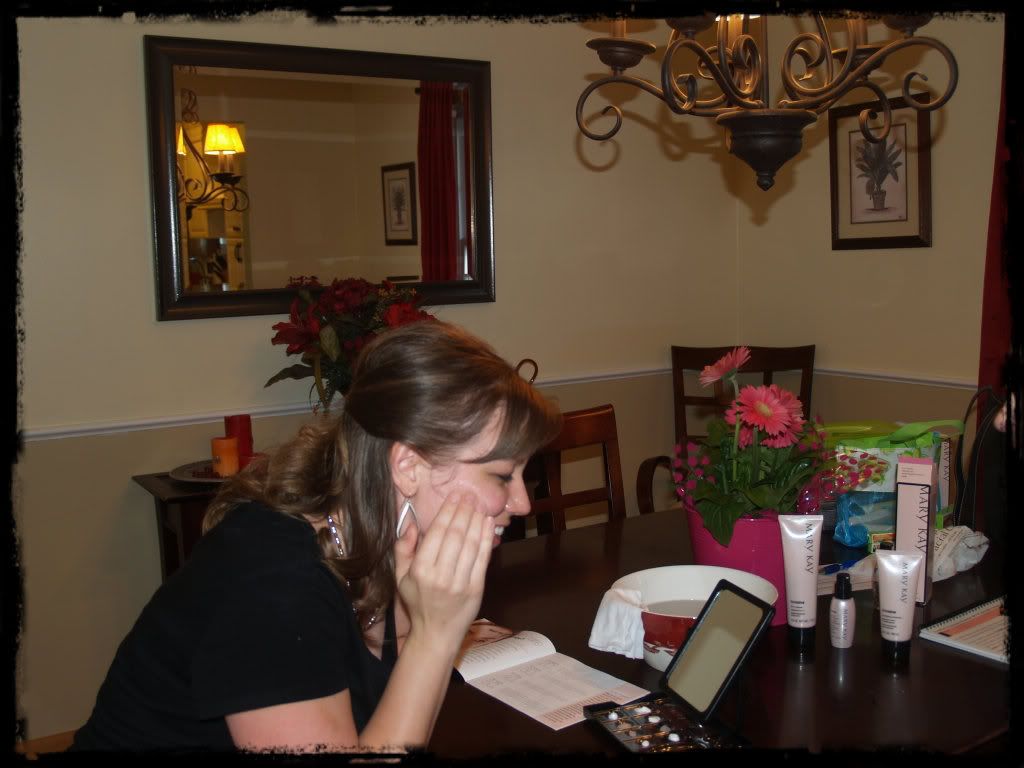 Feeling cheesy in front of the camera
She also helped me branch out into some other colors of eye-liner, blush and lip gloss. And one of my favorite items was the Cream Eye Color which Melissa said is like a primer for
your eye make-up but can also be worn alone.
Versatility? Yes please.
It was so much fun to actually have someone knowledgeable to talk to one-on-one about my skin and make-up routine. And Melissa was so patient and helpful with all my questions.
Needless to say, I'm realizing that you get what you pay for and my usual regime is pretty crappy.
Why not invest in my face? After all, it's the only one I'm going to have.
If you would like to talk to Melissa about any of the wonderful Mary Kay products or
about how she can help you too, please contact her below. She can help you no matter where you live. And if you happen to be in the Pittsburgh area, she can schedule a one-on-one with you too :)

Her website is awesome, there's even a virtual makeover tool, lots of tips, and of course info about all their amazing products.


Thanks Melissa for introducing me to Mary Kay products but also for treating me
to such a wonderful and much needed makeover!
And now I encourage you to take a little time to pamper yourself....
even if its in baby steps like me :)
Don't let all the "stuff" of life drain you.
As women we tend to take care of everyone else first.
When you take care of yourself, it's so much easier to take care of everyone else.
Please make sure you are taking some time for yourself, you'll be so glad you did.
Call me Blessed