I finally have my act together on a Monday to be able to link up with Carissa!
So write your own Miscellany and join in :)
This past weekend was so nice.
We had that great combination of accomplishing some things and relaxation.
1. A purging we will go....
We're gearing up for our garage sale next month and we are approaching it like we are moving across the country.
If we don't HAVE to have it, it goes.
No more "well I may need it someday"....And so my mantle has been taken over by all our stuff we can do without. Most of the items are in our basement but we just have so much it is overflowing into the rest of the house and I can't contain it. Just think of all the space we'll have once it is all gone! AAAhhhh.......can't wait. We do have a few rooms that have been completely de-cluttered and re-organized and I must say my husband and I are already reaping the benefits of less "stuff". We just feel like a weight has been lifted.
2. A birthday bag....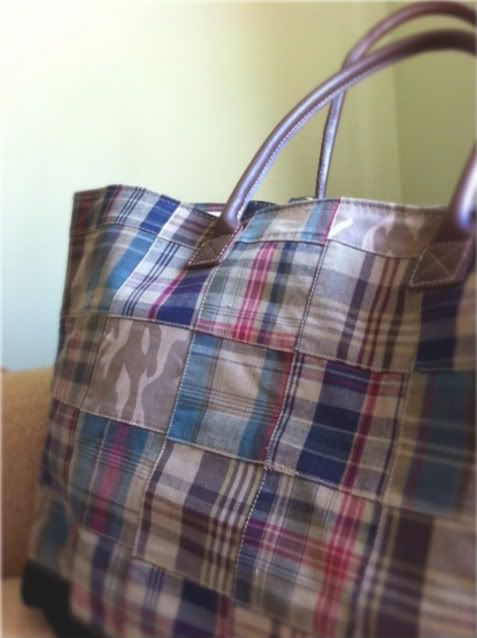 My mom got me this lovely tote from LL Bean and I just adore it. See that little patch of camo thrown in? I love that. It's so me....
I have a little tomboy thrown in for good measure.
And see how huge it is? I can fit my camera bag, purse, diapers, and wipes with plenty of room left for more. I use it mostly for work because I can carry my lunch bag and purse all in one bag.
3. Spiced up pretzels...
I finally made these spicy pretzels that I've been wanting to make for quite some time now. And the entire family loved 'em :) I was first introduced to these by my stepmother...check out her blog
here
for awesome food tips and recipes.
Here's the recipe I used..
1C Vegetable Oil
1 - 1oz package of Ranch dressing mix
1tsp garlic salt
1tsp cayenne pepper
2 - 10oz packages of pretzels
In a small bowl, combine oil, dressing mix, garlic salt and cayenne. Divide pretzels on 2 baking sheets. Pour mixture over pretzels, stir to coat. Bake at 200 degrees for 1.25 to 1.5 hours. Stir occasionally. Cool. Store in airtight container.
4. Clothing swap...
Ever notice how long it takes to sort through clothes to get the next season/size ready and old clothes separated for keeping and donating?
But finally I have both boys ready for fall. We had very little actual school shopping to do since my oldest will be wearing a uniform this year. Not to mention we were lucky enough to receive some really well kept hand-me-downs from an former neighbor. It may not look like much but there's more in the part of the closet that you can't see. I'm really wondering if he'll be able to wear them all with having a uniform now. Little E was a little jealous of his big brother but was excited when I showed him all of L's clothes that we would be storing for when he is big enough to wear them.