It's been a while since I linked up with Carissa at lowercase letters so I thought I would do so today. She's such a sweet gal, go check her out
here
.
I've been a little MIA lately. My sweet non-blogging husband was laughing at me when I mentioned that I haven't posted or checked in with my bloggy friends in over a week. I tried to convince him that this was indeed a long time for most bloggers :)
I just got an eye roll.
None-the-less I hope to be checking in with everyone this week.
Here's what we've been up to.....
Camping at Pymatuning Lake
This was such an awesome little mini-vacation but we will have to try and make it a longer trip next time! We had wonderful weather (if a tad on the humid side). Will post more about our trip later.
Stomach bug
Came back from camping with some strong stomach cramps. Thought maybe it was all the junky camp food we ate. A logical conclusion considering our menu consisted of hot dogs, kielbasa, bacon, potato chips, marshmallows, cookies, and store bought danishes.
This is NOT my normal diet.
But alas it lasted several days and I had a fever too so it had to be more than just too much bad food. Well, I finally went to the doc who thought it could be a parasite picked up from the lake water but thankfully it was just a stomach bug of some sort. The whole idea of a having a parasite kinda creeps me out.
Summer fun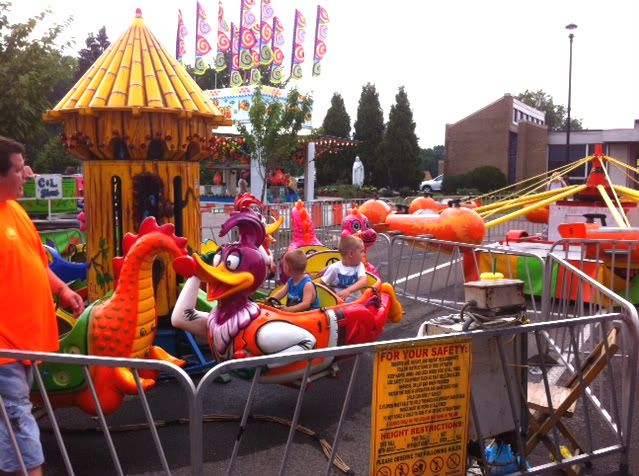 We had our second annual church festival of the year on Friday at the parish my husband teaches at. It really is one of the nicest fairs I've seen. They have a TON of things to do there. Lots of rides, game booths, balloon animals, free cookie decorating, performances, adult beer lounge, farm market, fire rescue demonstrations and probably more that I am forgetting. My hubby worked the dunk booth, the kids always love the chance to soak their teacher. I had to laugh because they would really wail the balls at the target but totally miss and I would try to yell out that they needed accuracy, not heat.
Most missed but he ended up pretty wet anyway :)
Seafood Bash
We had our second (hopefully annual) steak and seafood bash with my mom and sister's family on Sunday. It was indeed an event! We had tomato mozerella basil hor' devours, marinated delmonico steaks, crab legs, scallops, broccoli salad, and cream puff cake. Can I get a OH YEAH!
I of course ate WAY TOO MUCH but it was worth it!
So that brings us to today, the first of August.
Not to be a Negative Nancy here but we always get a little depressed when we hit August. Summer is essentially over, you are surrounded with back-to-school errands and such (not to mention a certain gal has to face yet another birthday....sigh). We will be squeezing in one last summer trip this weekend to visit my sister-in-law in Michigan. My little guy is sick though so hopefully he will be over it before we go.
Aside from the 5 hour car ride - I can't wait!