It's no secret.
I am not a great cook.
Not bad, but more like mediocre. And let's just say last night's dinner was not my finest. We had baked potatoes and a salad and I tried to copy these great baked potatoes we had at my friend Amanda's this past weekend. Well....I kinda botched 'em.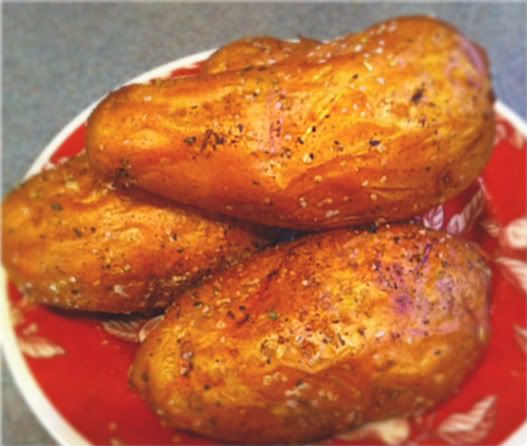 All you do is coat them in oil and rub on some spice and then bake them in the oven (laid right on the rack) for about 1 hour. The skins come out nice and crispy and the spices add a nice touch. I used salt, pepper, garlic powder, oregano, and basil. Ended up I used a tad too much garlic...oops! And it sort of burned and got bitter....double ooops! At least we had sour cream to top them ;)

And the salad? It was basically lettuce and shredded cheddar. We do our grocery shopping on Thursday nights you see so this is really all we had. I dressed mine up with some mandarin oranges and walnuts but my poor hubby isn't really into oranges on his salad.
Needless to say there were several hints from my hubby that dinner was less than stellar.
"How much garlic did you use?"
"Is this all we had for on the salad?"
"Don't we have any croutons at least?"
Let's just say that these comments were not necessarily received well by me.
Now for the good part. Shortly after dinner while I was cleaning up, my man said
Those simple little words totally turned me around. It showed that even if the meal was not very appetizing, he still appreciated me making it and doing the best I could with whipping up a meal when the cupboards were practically bare.
Don't you just love when your hubs says something unexpected and totally disarms your cranky funky mood? I do.
God bless him!
P.S. Thank goodness it is grocery shopping night tonight! My kids will be so happy to have something other than water to drink :)